taking on the challenge in style
no matter how comprehensive a glazing range might be, sometimes, you find that you have an additional issue which must be addressed
Fortunately, that's exactly the kind of challenge that the ESG Bespoke team love!
With the expertise and experience gleaned over more than two decades as a team, and the cumulative know how of many more decades as individuals, we're really well placed to solve your potential problem with a bespoke ESG product. Our bespoke projects usually centre around our laminating technology and are designed to solve multiple challenges in a single product. However, they can also be interior or commercial design-led, based on colour and style, producing corporate branding through back painting and CNC cutting technology.
We can produce almost any shape, pre-drilled and tailored to fit easily into your choice of fixings.
Because of our newly installed state-of-the-art manufacturing facilities, we can also produce larger sizes than most glass processors. Please feel free to ask us about this.
In the lamination process, two (or more) sheets of glass are sandwiched together using a specialist PVB (Polyvinyl Butyral) interlayer or interlayers, which forms a bond, creating a single, glass pane. This process can be carried out using float glass or toughened glass. We manufacture toughened glass at our manufacturing plant, through advanced heat soaking technology.
Laminated glass is classified as a safety glass, because, in the event of damage, the interlayer holds the vast majority of the glass fragments in place, reducing the risk of falling glass. Toughened laminated glass, such as ESG Tufflam™, is safer still because, when toughened glass breaks, it shatters into small granular pieces rather than the large shards produced when float glass is broken. Toughened glass is four to five times stronger than ordinary annealed or float glass, making toughened laminated glass a very strong, very safe product indeed.
Using specialist interlayers, we can tackle a number of further challenges, either singly or in combination. You can choose to add any – or all – of the following:
Privacy:
ESG Switchable™
privacy glass
is fast becoming a 'must have' solution in a wide variety of settings, from private homes to corporate offices, high value retail and a host of other commercial and public settings. Its uses are many. The versatility it brings, in being able to switch from transparency to total privacy at the touch of a button, is firing the imagination of architects, designers and the construction industry as a whole. Discover the ESG Switchable ™ range here. As with all our specialist interlayers, we can combine privacy with one, two or more of our other options to suit your individual project's needs.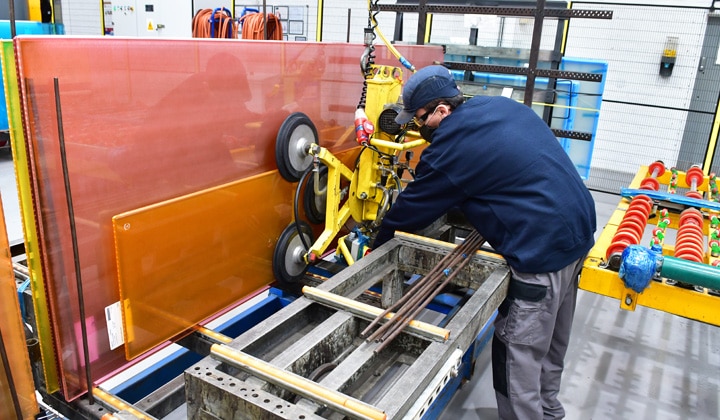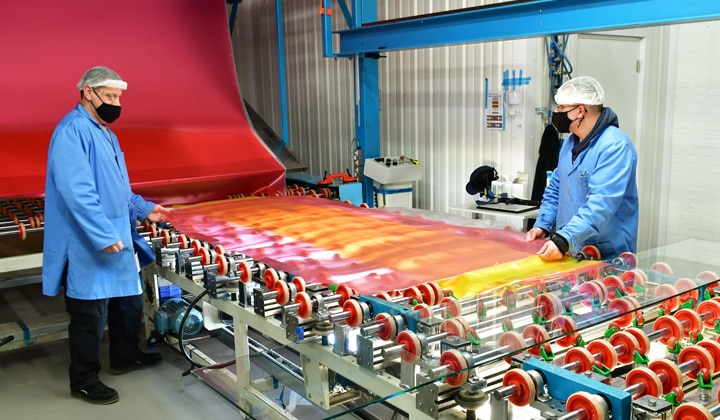 Sound Attenuation: ESG Acoustic™ is the ideal solution to noise nuisance from urban streets, near neighbours or other potential noise nuisance. The specialist interlayer which we use to provide this insulation against intrusive noise can be added to a bespoke product in combination with any of our other specialisms. Read more about ESG Acoustic™ here.
Security: ESG Secure™ is our high security solution, designed to guard against criminal activity or even terrorism. This is fast becoming a firm favourite for public transport facilities such as ports, airports and rail terminuses, but also with high end retail and for protection in high net-worth individuals' dwellings. As with our other solutions, this can be combined with any other interlayers to provide an exceptionally versatile glazing solution. More information on ESG Secure™ here. We have versions of our Secure™ range which can withstand high velocity ballistics and even blasts from explosive devices.
Designer Looks: There is no need to compromise looks for functionality – we can provide both beauty and practical solution. We offer a wide range of digitally printed, patterned and transparent coloured films which can be combined with technical interlayers; as well as frosting, etching, screen printing and back painting, to create exactly the effect that you desire. We can even add decorative glass panels such as ESG Corifloe. Please take a look at our ESG DecoLam range here.
please challenge us
It would be almost impossible – and very lengthy – to sum up all the ways in which we can cut, drill and finish glass to meet your exact specifications. Our team have a vast combined experience of creating the ideal bespoke product which answers all a project's various challenges in a single solution.
In short, if you have a glazing challenge, we'd love to explain how we can help you solve it. Please call or email us and we'll be delighted to help you.