the glass of first choice for shopfitters and architects
glass is one of the most hardwearing, long-lasting & attractive materials to use in the commercial environment, which is why its use is so popular in the retail sector
At ESG we understand the particular challenges of the retail environment, which has to be both beautifully alluring and exceptionally resilient. It is essential that the retailer enjoys a pristine retail asset which attracts maximum footfall.
Displaying the product range with clarity and safety is essential, which is precisely why our range of toughened laminated glass is the first choice of shopfitters and architects across the UK. You will find ESG's architectural glass range has been used in some of the UK's most popular and prestigious shopping locations, from the high street to popular retail destinations such as Westfield at White City and Stratford, as well as Lakeside and The Trafford Centre in Manchester.
Equally at home in locations such as London's prestigious Bond Street, or on the local high street, our glass is favoured by architects, designers and shopfitters for its durability, practicality and beauty.
Our popular toughened laminated glass, Tufflam™, is now available in larger sizes than ever, thanks to our new, state of the art production facility. This allows for large uninterrupted shop windows, which showcase the products on offer to their greatest advantage.
Modern glass manufacturing technology means that we can produce lighter, stronger, larger panels, without compromising on quality or clarity. Tufflam™ is amazingly hardwearing, shaking off everyday knocks and bumps so that the glass shopfront, and therefore the retail environment as a whole, can be maintained in pristine, just-opened condition for many years.
In 2020 we became stockists for the increasingly popular Guardian Clarity glass. For many retail scenarios that require a premium perfect view to show off highly desirable items, Guardian Clarity anti-reflective glass is the ideal solution, because it achieves higher light transmission and lower reflection. Demand for this is growing rapidly as it provides the prospective customer with a stunningly clear view of any premium products which the retailer wishes to showcase!
For high value retail items, where ramraiding and deliberate breakage might be a problem, we offer ESG security glass, which is highly resistant to intruders. By laminating several thicker panels of toughened glass together, we have developed a range of glass with excellent clarity and exceptional resistance to intruder attack. This is favoured by jewellers, high tech retailers and high-end vehicle retailers, to name just a few.
This type of glass is making a major contribution towards eliminating theft-related crime, helping to design opportunities for it out of the built environment. The sheer effort and determination needed to create an opening in ESG Security glass exceeds the patience and resources of most would-be intruders, including the most hardened and determined criminals. The time involved in breaching a security glass panel allows security teams to intervene and detain the prospective criminal, or discourages the would-be intruder sufficiently to make them give up on their attempt and flee the scene.
To take things one step further, we can also help to deter the would-be thief by using our increasingly popular ESG Switchable™
privacy glass
, which adds selective privacy. This glass switches from transparent to opaque at the touch of a button. ESG Switchable™ contains liquid crystals which respond to a small electric current being passed through them, changing the orientation of the crystals.
When the electric current is passed through the glass panel, it becomes see-through; then, once this is switched off, it reverts to its opaque state. During retail hours, therefore, the products on sale can be displayed through a seemingly normal, optically clear glass panel. However, after hours, they can be effectively hidden from view, deterring the criminally minded. It is much harder to form a plan to steal what you can't actually see.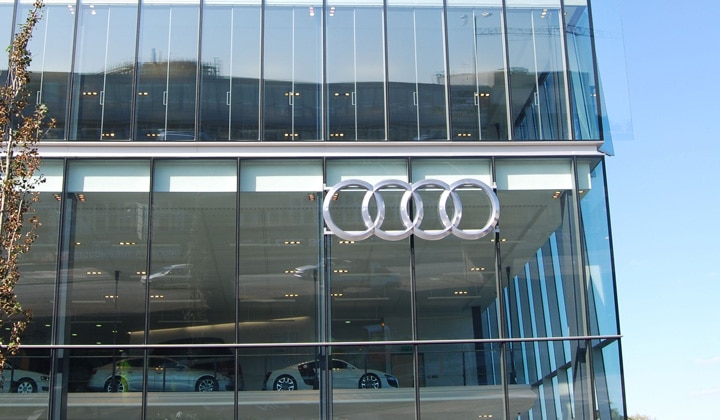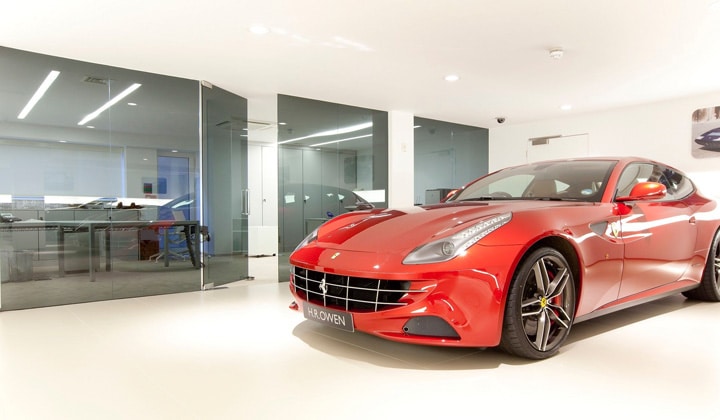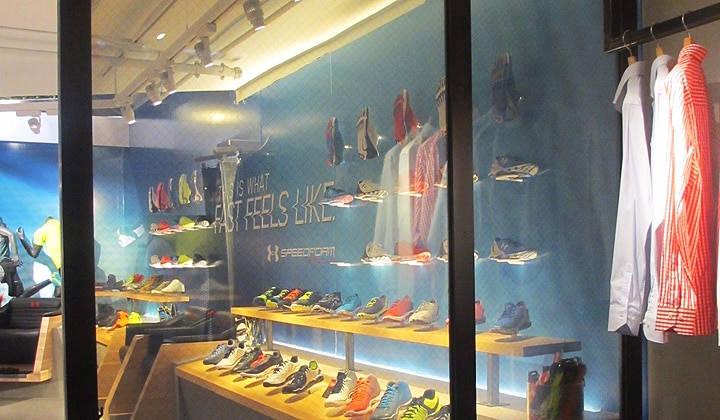 It doesn't have to be a choice between two exciting products; using our state-of-the-art technology; we can combine the properties of both – or several. Security and seclusion can be combined into a single bespoke product. Using a combination of technical interlayers, we can add LED privacy to any of our Tufflam™ or Security glass products. For transport terminus retail locations, where the terrorist threat is, sadly, a growing and every present concern, we can provide ESG Ballistic glass and even blast resistant glass, to deter attacks of all descriptions. We are happy to create a bespoke product for you to answer all your security concerns.
Using glass allows light to flood through a building, so it has long been the favourite of architects when constructing atriums and connecting walkways, as well as individual retail units. The ease of cleaning and increased light also helps to reduce overall running costs for the retail property owner and facilities management professionals. Inside the store, beautiful, practical, easy to clean and hard-wearing interiors can be created using our glass products. Robust shelving, partitions, balustrades and even floors and stairs can be formed from our versatile product ranges, with stunning results, which help to entice buyers and encourage commerce.
With the advent of social distancing and COVID-like viruses and germs, the ease of cleaning and sanitising the surface of glass makes it the optimum choice for busy retail interiors. As it has a non-porous hard surface, a host of cleaning materials such as bleach, medical grade sanitisers and other highly astringent products can be used with absolute safety, without affecting the appearance of the glass. And because ease of cleaning is now even more important, our option to add corporate logos and brand colours in the technical interlayers between glass panels is set to become increasingly popular. With corporate branding safely sandwiched between the layers of glass, the surface can be cleaned using the most powerful cleaning products, without any risk of wearing away painted branding.
It's hard to imagine a more versatile material that allows you to change displays with the seasons, while, quite literally, keeping up appearances. Please talk to us about your retail challenge; we're bound to have the ideal solution. We are always happy to discuss a particular project with you, so please contact one of our customers service team for more information.