we have the glass ranges to tackle the challenge
staying safe never looked so pristine and beautiful
Travel today is increasingly a combination of glamour, safety and high security. Fortunately, glass processing technology is not only keeping up with the ever-evolving challenge, it's truly coming into its own with options that provide high security, privacy and practicality.
Our new state of the art production facility has allowed us to extend the panel sizes on our most secure glass ranges, making them an ideal choice for full height barriers and glass walls. This means that the architect can still create amazing design concepts using architectural glass; and we can help to make them a reality, without compromising on safety or security.
In airports, train stations and sea ports, our glass is rising to the challenge of keeping both the public and transport staff safe while on the move. Using the latest glass processing technologies, we can now provide glass that helps combat theft in retail units; adds to the fire safety of travellers and transport staff and even aids in the fight against terrorism and serious crime.
With security high on the national agenda, glass screening and partitioning has never been in more demand. Whether you need toughened glass partitioning panels, or entire glass walls, we have the glass ranges to tackle the challenge. Our products help to achieve the increasing balancing act between realising the dreams and concepts of architects and designers and addressing the ever more pressing need for safety against growing levels of threat.
Glass now offers great protection, even from threats of terrorism and deliberate planned attacks. Both our ESG Secure and ESG Ballistic glass ranges help to counter the threat of deliberate criminal or terrorist activity, while maximising sight lines for security staff. This helps your security teams to stay vigilant while your passengers are protected.
Our ESG Secure glass makes a major contribution towards resisting attempted intrusion by the determined criminal. By laminating thicker panels of toughened glass with technical interlayers, we have been able to create a high security glass which is highly resistant to attack. Tested against a series of tools which might be used by a professional criminal, ESG Secure has proved extremely difficult to breach.
While the glass panel will sustain surface damage which may mar its appearance, it will not easily allow the intruder to make an opening sufficient to reach through to open a door or window. It will take even longer to create an opening large enough to step through and enter the premises.
In any major infrastructure setting, an ESG Secure glass panel will hold in-situ, without being breached, while the alarm is raised and security or police personnel can arrive to detain the would-be intruder. In most instances, because of the amount of time and effort expended unsuccessfully, the criminal will simply give up and leave empty handed.
Our ESG Ballistic glass range performs a similar function in resisting the planned and deliberate terrorist attack. Again, several thicker panels of toughened glass are laminated together with technical interlayers which create an extremely robust glass panel. In high alert locations, our ESG Ballistic range offers protection from gunfire, resisting a wide range of ballistics from small fire arms to automatic weapons.
Toughened laminated glass is itself a great safety product. Should a panel be damaged by any kind of impact, the way in which toughened glass shatters into small, more granular fragments, greatly reduces injuries which could be caused by flying shards of glass, were ordinary annealed glass to be used. The interlayer also adds to safety as, in a damaged laminated glass panel, many of the glass fragments will still adhere to the interlayer, causing them to be held in place; so the risk of falling glass fragments is greatly reduced.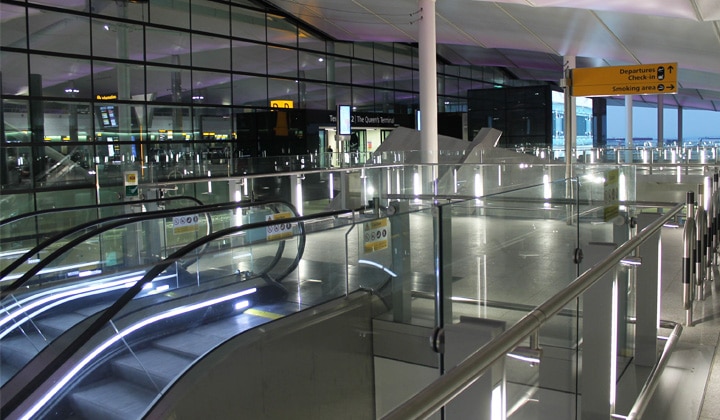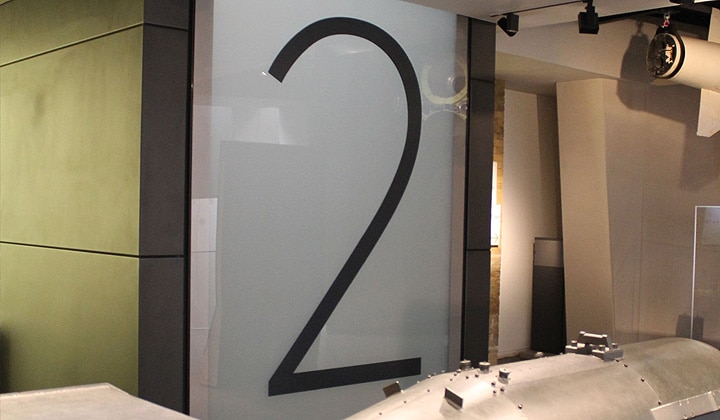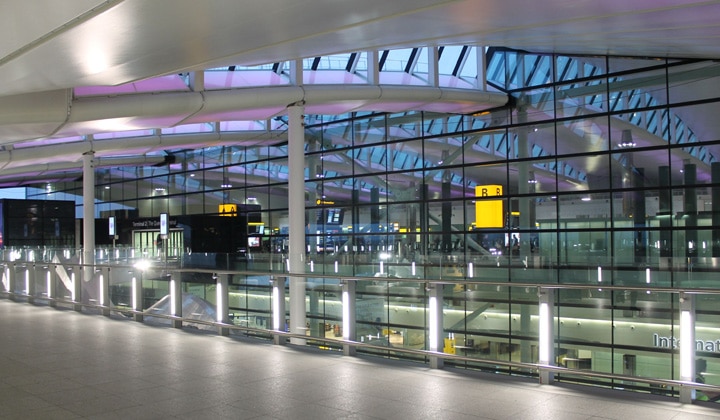 Transparency and visibility are a huge aid to security, so we find many architects choosing to create glass elevators, stairwells and walkways – all possible with our highly advanced Tufflam™ glass range. Not only does this add light and beauty to the built environment, it also removes the number of blind spots and places to hide for the criminal or the terrorist.
This more light-filled, calmer setting also serves to sooth and assist particularly nervous passengers. In airports, in particular, light, open spaces have been shown to have a beneficial effect in calming nerves and reducing stress for those who find the travelling process more difficult.
At times, it may be necessary to close off some areas, or create additional privacy or anonymity for high net worth or politically sensitive passengers. Our increasingly popular ESG Switchable™ is excellent for this purpose, as you can choose whether the glass is transparent or opaque at the push of a button. Press once to release a small electric current, which makes the glass optically clear; press again and the current is switched off, leaving the glass opaque, and your VIP carefully screened.
Because transport hubs are also key retail locations, the attractive display and visibility of the products on offer is essential. ESG Switchable™ is also an increasingly popular choice for retailers who offer high value items such as designer watches or jewellery. In periods when the retail unit is closed, ESG Switchable™ can be switched off, so the products are no longer on display. This switchable transparency feature can even be combined with ESG Secure to create a highly secure, switchable privacy glass pane. As it is less tempting to steal what you cannot see, not only is this hybrid switchable secure glass resistant to intruders, it also deters because it ensures that thieves cannot tell what their potential haul might be.
Glass panels can be erected easily to help create a one-way flow through transport, retail and food areas, to help us all to stay safe, whatever the risk. Interlayers in the glass panels can also be used for more decorative purposes, including brand identity, graphics and colour. Your branding can be encapsulated in the glass, making it resistant to frequent cleaning and ensuring long-lasting beauty.
With the advent of Coronavirus, we're also well aware that hygiene and regular cleaning is more important than ever, making glass one of the best and most practical materials to use for social distancing, with its hard, wipe-clean surface, which makes it simple to sanitise and clean.
We can create bespoke glass to answer all your concerns. Using a number of technical interlayers in a single product, we can create a glass panel which combines many of these properties; strength, resistance to intruders or terrorised, privacy, fire resistance – even sound attenuation. Please consult us and we will be pleased to create a solution just for your project.