specialist glass suppliers – a rapid & dependable logistics service
our work isn't finished until it is safely delivered
As specialist glass suppliers and processors, we don't regard our work as finished until we have safely delivered our high-quality products to your site. For this reason, we manage our own transport, ensuring that you remain entirely in our expert hands, from the moment that you place an order, until you receive the goods that you have commissioned.
As we manage our own transport, we can ensure that the glass is handled with the utmost care during the delivery process, enabling us to pack your order so it is ready to unload, quickly and safely. If you require exact packing and delivery requirements, please let us know and we can ensure your order arrives as requested, with no fuss.
Our growing fleet of 12 vehicles ranges from compact Mercedes-Benz Sprinter vans, up to 26 tonne lorries.
All our routes are carefully planned to be as flexible as possible to suit your needs. This allows us to time deliveries as accurately as possible, making a stress free and timely delivery to you, even at the most stringently controlled sites. This also, of course, helps to ensure that our products arrive at just the right time for you to check and install your products successfully, making the best use of your time and fitting with your carefully planned construction schedules.
Within our own fleet we have 3 Moffett vehicles. The Moffett is a forklift truck carried by the main delivery vehicle. This means that there is no need for a separate forklift truck to be available to offload glass products from our delivery vehicle. The stillage of glass can therefore be offloaded by our driver, and placed in the most suitable place for unloading, at your direction. This also reduces the number of parties involved in the handling of the product, helping to reduce the risk of damage during transit. Similarly, should you require one, we can also provide a Hiab vehicle, which is the common term (although actually a brand name) for a lorry loaded crane, or lorry loader.
We work closely with our customers to establish and agree standard delivery days to defined geographical locations, in order to assure both the efficient and flexible running of our fleet, and the security of our lead-times. We deliver within the M25, and to the home counties, up to 5 days a week. We also offer a standard Northern run, delivering to customers as far North as Leeds and Manchester. Our standard routes also cover from the East of England to the West coast, and along the South coast as far as Southampton.
We can, additionally, deliver to any UK postcode, or European destination, depending on the size of your order.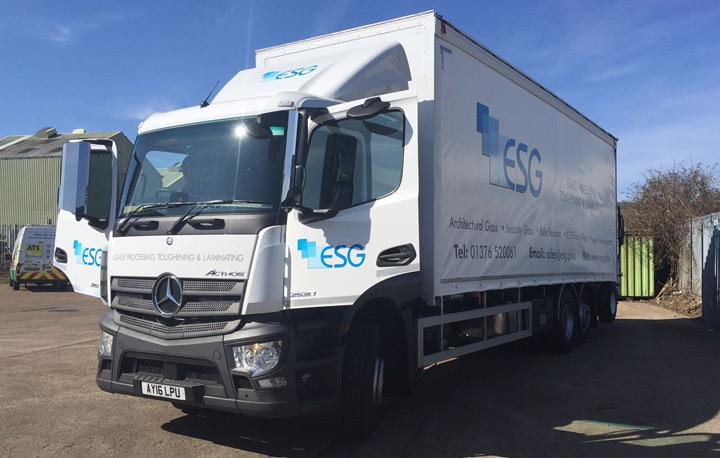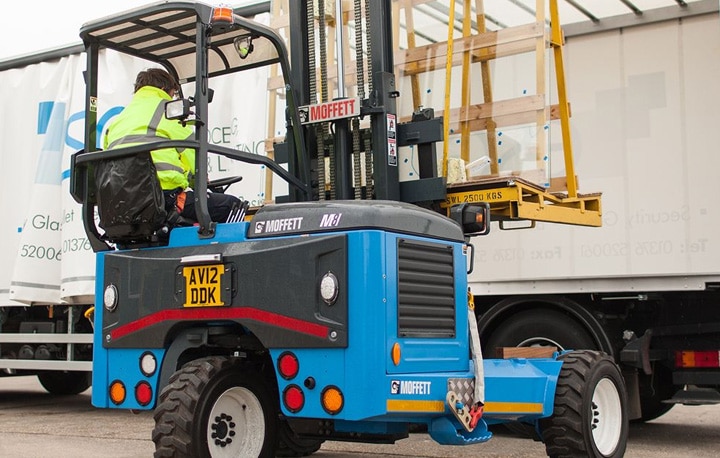 An additional transport charge will be applied according to your required delivery location. Please contact a member of our customer service team for more information. Unless a different arrangement has been agreed beforehand, all deliveries are based upon the customer's glass being loose-loaded and stowed on a standard vehicle; and delivered, within standard working hours, to a standard delivery area. Should you require any alternative delivery arrangements such as alternative packaging, specialised vehicle haulage (including use of a Moffett vehicle) or an out of hours delivery, please contact one of our customer service team to discuss your requirements.
As specialist glass suppliers, we also offer the option of the delivery of your order being made on certified stillages, metal or timber frames. In these cases, it is the customer's responsibility to ensure that mechanical lifting equipment is available, not only when the delivery is made, but also when the stillage is returned. If this is not possible, we can arrange a Hiab/Moffett vehicle to deliver or collect the stillage, but there may be an additional charge for this.
If an order is delivered on a stillage and is left on site, or at our customers premises, it will remain the property of ESG Group Ltd. Once signed for, it is left in your care and it becomes your responsibility. Therefore, in the event of any damage or loss of the stillage or products stored in the stillage, there will be a charge to replace the stillage or any remaining products.
For deliveries to out of standard area locations we can, alternatively, out-source transportation for an additional charge. These deliveries would arrive with your glass packed on a disposable timber stillage.
We also work with customers with specific stillage and trolley requirements. We are well versed in working with our clients to provide a seamless service from start to finish, from the size, design and specification of your products, to the mode, timing and location of the delivery.
Once you are in our hands, you can relax and let us take care of the entire process.