realising your vision … one of the premier glass processing companies
in addition to a vast portfolio of exceptional quality glass products, we also have a range of glass processes and services which ensure that, whatever your project needs,
we'll be able to guide you to the ideal solution.
Whatever characteristics your chosen glass requires, we are sure to be able to meet your specifications and realise your vision. Since the recent move to our new state-of-the-art processing plant, we have even more flexibility to provide everything you need.
cnc shapes
Not every project calls for straight edges and right-angled corners. Tailored glass panels which fit any two-dimensional shape can be produced on our advanced CNC machines. We have three CNC machines, which can accommodate a maximum glass size of 4.5m by 2.5m. On these machines, glass panels can be shaped and polished to your exact specifications, inserting internal notches and cut outs as part of the process. Using these techniques, we create magnificent glass panels for glass balustrades, lift enclosures and tabletops, as well as a host of other imaginative applications.
polishing and mitres
Almost all the glass we produce has a requirement for a polished or smooth edge, usually to ensure that it is safe for end users after installation. A smooth edge also provides a dull finish on the glass edge, making it ideal for safe handling; whilst our polishing process delivers a perfect shine to the edge of any piece of glass
drilling, cut outs and notches
For projects which call for a conventionally shaped rectangular glass panel, with additional cut outs and notches, we apply a drilling technique using a skill drill, or a specialised piece of equipment, known as a forvet machine. These techniques allow us to drill the apertures that you need to align and install your glass panels with the utmost accuracy.
radius, dubbed or cant corners
Individual project specifications often call for a glass panel to have an adapted corner profile. This can be a radius, dubbed or cant corner. A modified corner can be added to any panel to remove the sharp corner on the glass and create a uniform finish. Radius corners are, as the name suggests a rounded corner, which can be made to any size and polished to suit your application. In a dubbed corner, we simply 'dink off' the sharp corner and give it a blunt edge. The third option is a cant corner, which involves slicing off the corner of the panel to your required dimensions.
sandblasted glass
By blasting grit directly at the surface of a clear piece of glass, we can provide a treated surface which allows light through the panel, but which obscures the view and provides privacy. This is ideal for screening applications. Our automotive sandblasting machine evenly applies a high-pressure grit spray across the glass panel, creating a translucent finish – basically roughening up the surface.
Following this process, because it has been disturbed, the surface of the glass is more susceptible to contamination through handling and general contact. We therefore recommend that for any sandblasted panels, an additional process of clear-shielding the product is applied. This involves applying a fine spray to the glass, after it has been sandblasted, creating a protective coating on the glass, which guards against dirt and general contamination.
back painted glass processing
Many of our customers require a splash of colour in addition to durability and strength. This we can easily provide using a back-painting process. Paint is predominately applied to 6mm Low Iron toughened glass (but can be applied to any thickness). We use the Selemix paint system, which involves spraying the chosen colour onto the prepared glass. The panel is then left to air dry, chemically curing on the glass as it dries, creating a robust opaque finish, perfect to use in a variety of applications.
Numerous colours can be used to back paint glass. We recommend that you choose a colour from the RAL colour selector, a pantone colour, or the ranges provided by Dulux or Farrow and Ball. When viewed through glass, the colour can appear slightly different, so we always advise having a sample piece painted to ensure that you are happy with the colour match. We also recommend that low iron glass is used for back painted glass, as standard glass has a natural green hue which can affect the aesthetic look of the colour. Low iron glass is colourless, so does not affect the back-painted colour.
For splashbacks and upstands in kitchens and bathrooms, back painted glass provides a hygienic and easy to clean surface. For white boards it gives a modern finish to any office or meeting room. Other applications include wall cladding, worktops, lifts, lobbies and receptions.
screen-printed glass processing
One of our highly popular decorative products is screen printed glass, which allows us to add intricate or simple lettering, designs, logos or patterns, usually to toughened glass panels. ESG screen-printed is ideal for applications which require the design benefits of colour and style with the functional benefits of solar heat control and shading from direct sunlight. Screen printing, rather than block colour, provides a balance between transparency and privacy, together with the structural and safety benefits of toughened glass.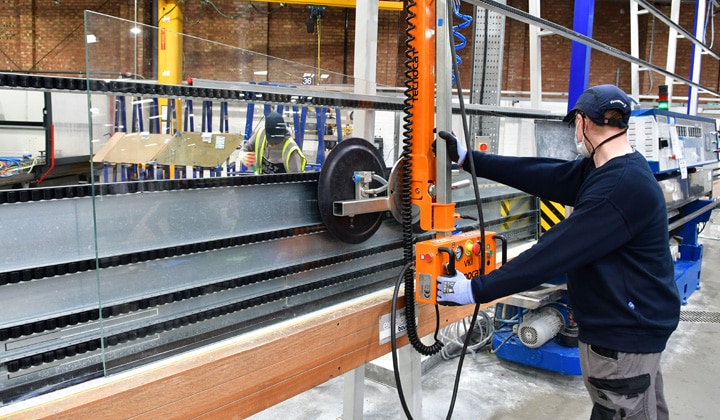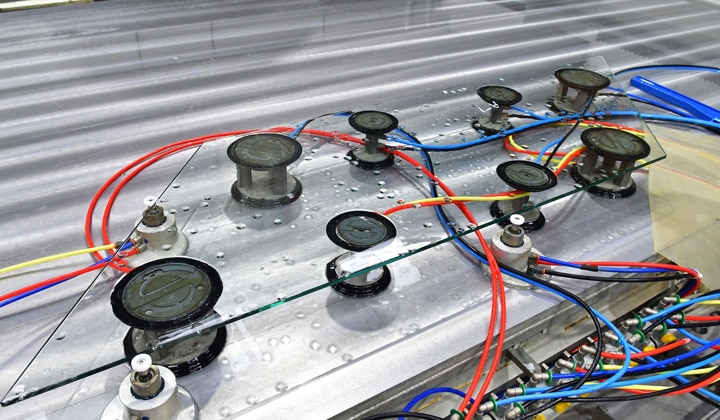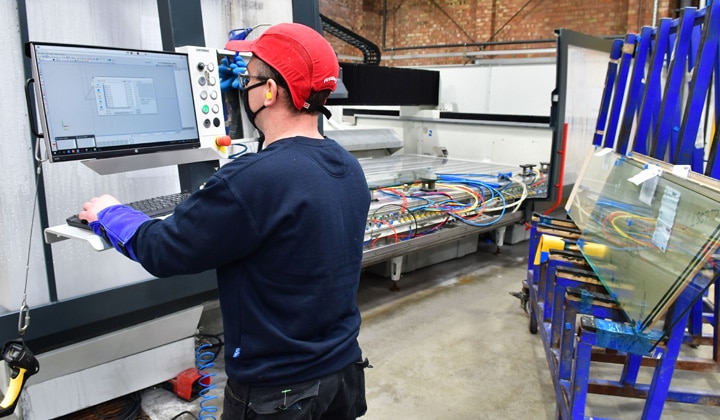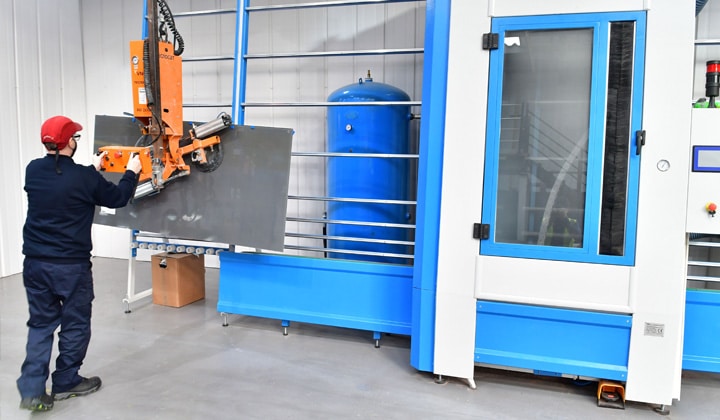 As one of the UK's leading glass processing companies, ESG offer a range of designs but also encourage the use of any bespoke designs that our clients require. White ceramic ink is the most common colour used, along with black and a diffused white that simulates an acid etch finish. Many more colours are available, ideally from the RAL colour palette.
We apply the screen print prior to the toughening process. Ceramic ink is passed through a screen onto the glass, and the panel then passes through a dryer, before being transferred to the furnace for toughening. Once the screen-printed panel has been through this process, the ink is physically 'baked' into the glass and cannot be removed. If required, the panel can then be laminated to create toughened laminated screen-printed glass.
This makes screen printing an ideal option to use in a multitude of applications, as the robustness of the product ensures the colour will not fade or wear off over time.
Here are just some of the popular uses of screen printed glass processing:
partitioning
roof/canopy glazing
shower screens
flush-glazed curtain walls
balustrade
sliding doors
signage
entrance door systems.
glass lamination
At ESG, we have been perfecting the art of laminating glass for nearly two decades, developing our market-leading product, Tufflam™. Using toughened glass, which is four to five times stronger than annealed glass of the same thickness, we laminate two glass panes together with an interlayer. This is normally a clear PVB (PolyVinyl Butyrall) interlayer. The process involves sandwiching the interlayer between the two panels of glass, before placing them in an autoclave.  A typical autoclave lamination cycle ramps pressure to 180 psi (12.4 bar) and temperature to 280 °F (137 °C). The pressure creates a vacuum of air within the construction, bonding the interlayer to both the glass panels.
This creates a robust safety glass which, if the glass panel is damaged, will hold most of the small granular fragments in place, effectively minimising any potential falling glass hazard. Unlike toughened glass alone, this keeps the panel within its frame until it can be replaced. If, for example, a glass balustrade panel were to be damaged, although it will need to be replaced, the damaged panel will still provide a barrier which will act to prevent people from falling. The damaged panel can stay in place until a new one is installed, meaning that the integrity and security of the building is not compromised in the meantime. ESG Tufflam™ conforms to Part N of the Building Regulations and BS:6262 part 4. When ESG Tufflam™ is used in structural balustrades, it will conform with Part K of the Building Regulations and BS:6180.
Because ESG Tufflam™ is a particularly strong product in comparison with its weight, we are able to produce an outstanding product range, manufacturing taller and wider panels than most other processors are able to offer. The innovation does not stop here. Using three or more panels laminated together, we can provide a great deal more products, which can be used for structural features. Our multi-ply laminate panels can be used to create floors, fins and beams, providing part of the building's load bearing structure.
Using technically advanced interlayers allows us to introduce other invaluable properties into our glass products. These include switchable privacy glass, sound attenuation, fire resistant glass, high security and resistance to a wide range of ballistics. ESG Tufflam™, with various other interlayers forms the heart of a range of further products which we offer: our fire-resistant ESG Pyrotech range: our privacy glass known as ESG Switchable™; our ballistic resistant ESG Ballistic range; and our crime-fighting ESG Secure which offers a high level of resistance to intruders. Please visit these individual product pages to learn more.
As well as offering greater strength and structural integrity, Tufflam™ also delivers considerable aesthetic benefits. With the advent of larger, lighter toughened glass panels comes greater scope for architects to use architectural glass to design and realise more adventurous and imaginative buildings.
coloured interlayers
Colour, pattern, and even a range of decorative materials can be encapsulated with an interlayer inside the glass panel.
The options for combining different elements are vast. These start with translucent coloured interlayers from our Vanceva range, which opens up a kaleidoscope of colour. Combining colour interlayers within the lamination, we are able to produce countless transparent, translucent or solid colours, perfect for creating an individual look and ambience. Suitable for both internal and external applications, this product is great for balustrades, glass balconies and partitioning, as well as external glazing.
Wood or metal mesh, fabrics or graphics can be encapsulated in the glass. Inserting colour and texture between layers of glass helps to reduce colour fading, as well as protecting the decorative surface from cleaning products and general daily use. In this way the designers' original work is protected and preserved.
here to help you
In addition to being leading glass manufacturers, ESG also pride ourselves on our flexibility and quality bespoke products – do you need a special finish, an original design, a specific edge or a bespoke shaped panel from one of the premier glass processing companies? Please call us on 01376 520061 or email us by clicking here.