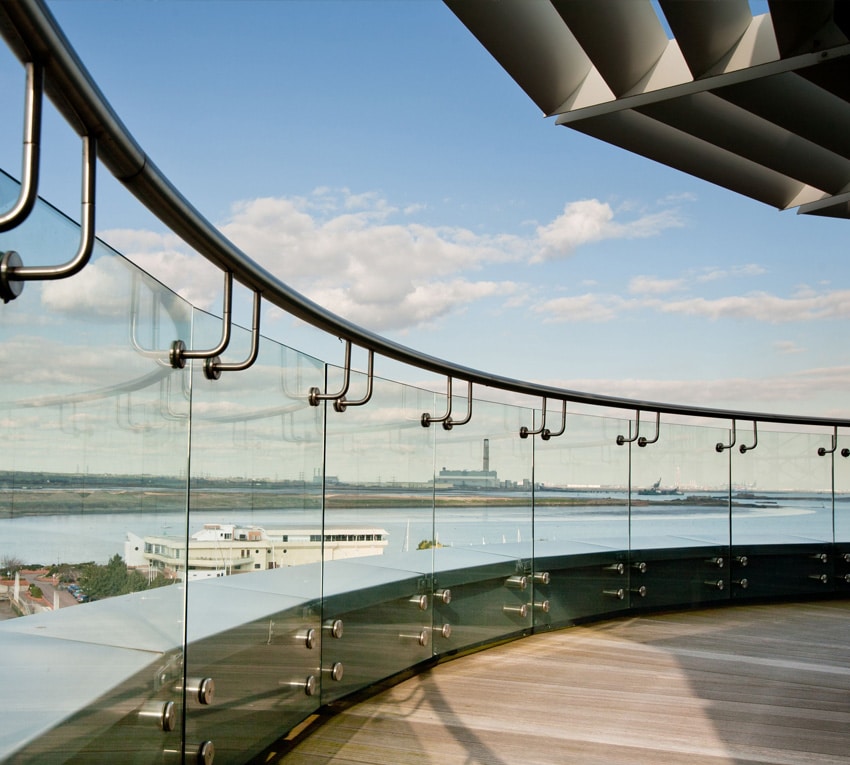 browse our tufflam gallery
esg toughened laminated glass
ESG TufflamTM is our high quality toughened laminated glass, used widely in the creation of essential construction elements such as facades, canopies, atrium glazing and balustrades. Toughened laminated glass products allow light to flood into buildings, providing beauty, strength and security. Loved by architects and interior designers for its versatility, which helps to make design concepts a reality, ESG Tufflam is also a favourite with shopfitters, partitioners and developers because of its great looks, durability and practicality.
Toughened laminated glass is the safe option for today's built environment, especially when used at height and in barriers such as balustrades. It is equally at home in the commercial, public and domestic sectors.
At ESG we have been perfecting the art of processing toughened laminated glass for almost two decades and is now one of the construction industry's favourite products. Using toughened glass, which is four to five times stronger than annealed glass of the same thickness, we laminate two glass panes together with an interlayer. This is normally a clear PVB (PolyVinyl Butyrall) interlayer, which, if the glass panel is damaged, will hold most of the small granular fragments in place, greatly reducing the potential hazard of falling glass.
Unlike toughened glass alone, this keeps the barrier, or external envelope in place until it can be replaced. If, for example, a balustrade panel is damaged, it will need replacing, but it still forms a barrier to prevent people from falling.
It will stay in place until a new piece of glass can be installed, preserving the integrity and security of the building's structure. ESG Tufflam conforms to Part N of the Building Regulations and BS:6262 part 4. When used in structural balustrades it conforms with Part K of the Building Regulations and BS:6180.
Read More >
Thanks to it's great strength compared to its weight, we have been able to manufacture an outstanding product range, including panels that are taller and wider than most other processors can supply. We also provide multi-ply laminate panels, with three or more glass panes for use as floors, fins and beams, so that glass can form part of the load bearing structure of the building.
By using a variety of technically advanced interlayers, we can also introduce other properties into our glass products. These include switchable privacy glass, sound attenuation, high security and resistance to a wide range of ballistics. ESG Tufflam forms the basis of a wide range of other ESG glass products which offer these characteristics. Please visit our ESG Switchable, ESG Ballistic and ESG Secure pages to learn more.
Larger, lighter toughened glass panels allow more freedom for the architect to design and create outstanding buildings. As well as the security that it offers, Tufflam brings considerable aesthetic advantages. Unlike other materials, glass keeps its pristine appearance for many years, and we can enhance it still further by adding design features such as logos, colours, patterns and other decorative glass effects.
Whatever your specific project needs, we can create a bespoke glass product for you – and we also have a wide range of standard panel types and sizes. Please call us on 01376 520061 to discuss your requirements, or send us an email by clicking here. Our full product listing can be found here.
Vanceva
Glass Flooring
Fins and beams
Acoustic
Deco Lam
Corifloe
bournemouth penguin enclosure
This ambitious project is the largest expansion in the centers history and was over 5 years in planning.
Read More>>
the london taxi
The entire sculpture is made from 10mm rod that is welded into position, then sprayed in an orange day glow paint and is an impressive 4.5 meters long.
Read More>>