make your concept a reality
esg glass products are increasingly used to realise the dreams of the most imaginative architects and designers, especially in the residential market
Self-builders, who are so frequently looking to create a distinctive and aesthetically ambitious property, are also turning to technically advanced architectural glass as one of their most highly favoured construction materials.
Glass is a long lasting and durable product, with excellent thermal insulating properties, which means that it is in great demand for green construction projects. As glass is also eminently recyclable, it satisfies many environmental concerns.
With an increasing emphasis on natural light in new properties, there is a huge demand for larger glass panels, to be used as entire wall spans or in bifold doors which help to create the illusion of blending the outdoor landscape with the indoor living space.
This is no problem with modern glass processing technology in our new, state-of-the-art processing facility.
By laminating two sheets of toughened glass together to create ESG Tufflam™ glass, we can provide lighter, larger, stronger panels than ever before. Toughened laminated glass is therefore frequently used in private residences to create expanses of light-giving glazing which flood the interior with natural light. This type of glass is also much safer to use in a domestic context.
Toughened glass is several times stronger than ordinary annealed glass, and will stand up very well to everyday knocks, by bags, sporting equipment, toys and even suitcases or bicycles. It also has other safety characteristics. Unlike annealed glass, it does not break into large shards when broken; instead it shatters into small glass particles, which are much less likely to cause injury.
In toughened laminated glass, such as ESG Tufflam™, if a panel becomes damaged, most of the fragments will be held in place by the interlayer, so the instance of falling glass particles is greatly reduced, which is much safer for domestic properties.
Glass does not have to be reserved for windows. By laminating several thicker toughened glass panels, we can create construction materials which can be used in place of wood or blocks. This opens up huge possibilities.
A staircase, which usually forms something of a barrier to light, can be constructed largely of glass. Not only can the balustrades be fashioned from glass panels, using multiple panels laminated together, we can also create glass stair treads. Fixing bolts can be laminated into the tread, so it can be fixed in place to appear to float, or extend seamlessly, from an adjoining wall. The walls of an internal stairwell can also be constructed from glass panels, so that daylight, and a feeling of space, can be maximised.
Upper floors and interior walkways can also be made from thicker laminated panels, which can bear considerable weight loads. Even beams can be constructed from sufficiently thick laminated glass panels. We welcome architects and designers to work with us to create their desired effects, although you will also need to take advice from a qualified structural engineer when constructing structural features from glass.
A favourite in the high net worth and self-build sectors, our ESG Switchable™ glass allows enormous flexibility in the way we use and maximise our living spaces.
Switchable
privacy glass
has liquid crystals within the interlayer, which respond to an electric current. When the current is switched on, the glass becomes optically clear, or transparent. However, once the current is switched off, the glass instantly becomes opaque again. Transparent or opaque, enjoy the view or not – you choose – at the touch of a button.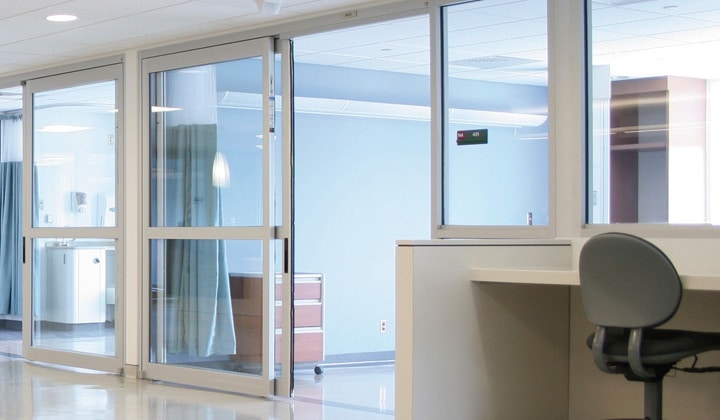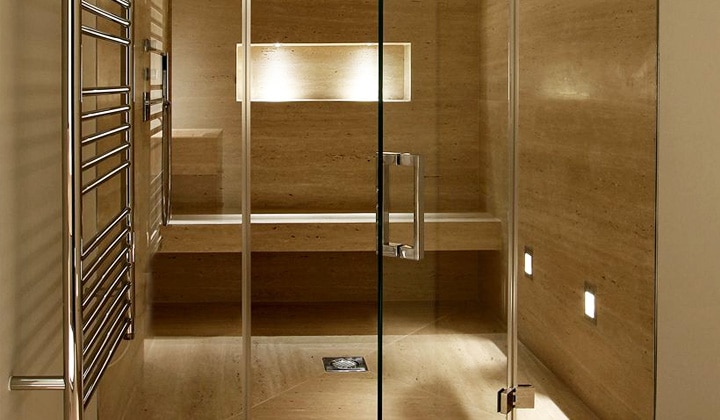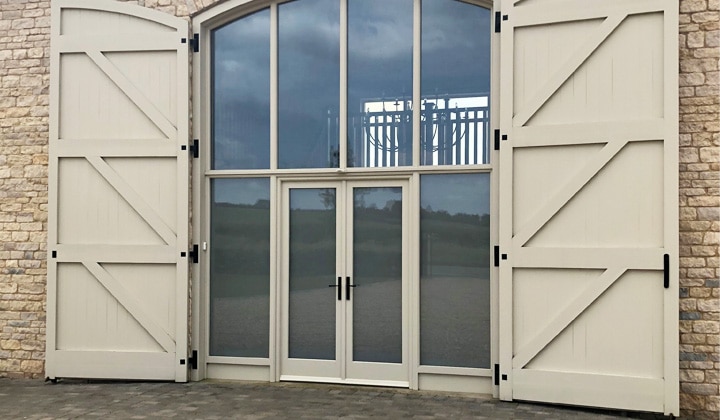 We have seen ESG Switchable™ used in bathrooms, as privacy screening, for some years; but now, we are also seeing it used as room dividers and even bedroom walls, as our clients realise its potential. In warehouse and factory conversions to luxury apartments, for example, one great way of maximising living space is to introduce a mezzanine floor, often with bedrooms or a study. When unoccupied, these rooms can be screened from the gaze of visitors by switching off the current, leaving an opaque glass wall. When in use, however, the glass can be switched on to allow light to flood through, creating a sense of greater space.
Increasingly, we are seeing ESG Switchable™ used to provide screening from the outside, especially in minimalist interiors. No need to draw the curtains when dressing or when evening falls – just switch off your glass and you have instant privacy. Many of the residential properties that use ESG glass are created for high net worth individuals, for whom home security is a high priority. Our ESG Secure range deters would-be intruders – it's just too difficult to break through it.
By the time a thief or vandal manages to create a hole large enough to step through and enter the property, they will have been detained by security guards or police officers. Even creating a hole large enough to reach through takes a great deal of time and determined effort. Most would-be intruders will simply give up and flee.
At ESG we also have a range of decorative glass products, such as our beautifully corrugated retro design, Corifloe. These help to create a specific mood, or period feel, and are becoming very popular with designers and homeowners alike. You can explore our decorative range here.  We can also add colour using interlayers, so, as the sun travels across the sky, you can create stunning effects with light and mood, depending on the colour of interlayer that you choose. We can also provide graduated frit patterns to provide dappled shade and protection from unwanted solar gain.
Another important consideration in residential settings is noise nuisance; we have a solution for this too. Using a specialist technical interlayer, we can provide sound attenuation, whether to shield the resident from neighbours, from ambient urban sounds or from early morning rural birdsong or crowing.
You don't have to sacrifice one type of function for the sake of another. The secret to creating advanced glass is in the clever use of technical interlayers, and these can be combined to make a single bespoke product. For example, you can combine ESG Secure with ESG switchable and sound attenuation to create an innovative solution for your individual project.
ESG pride ourselves on being one of the UK's leading glass manufacturers and whatever your concept … glass will be a part of it. Pease contact us to discuss the possibilities and let us help you make your concept a reality.