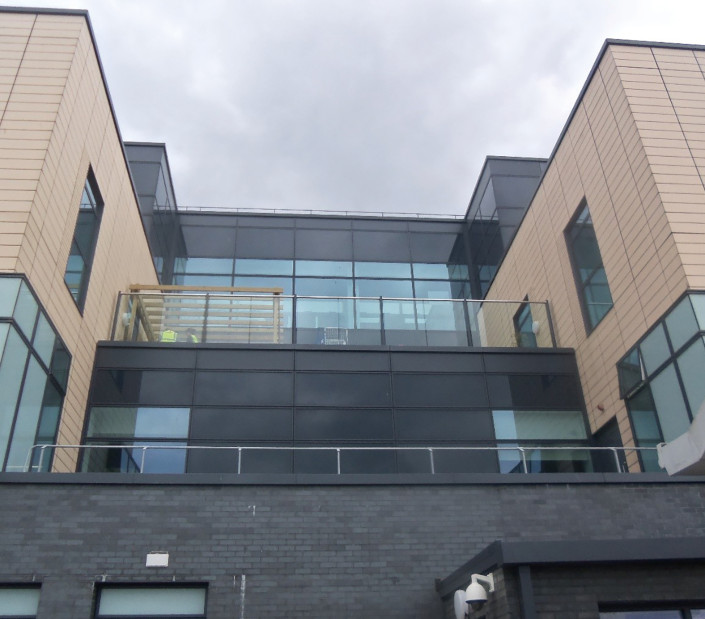 bsafe: toughened laminated glass for the balustrade market
The latest addition to our product range is ESG BSafe, a new enhanced toughened laminated product, developed specifically to provide an option for glazed balconies more than 18m from the ground.
ESG BSafe is perfect for use below the 18m limit imposed by the 2018 revision to the Building Regulations; but we believe that it should also be an exempt or compromise product for use above 18m.
Applications:
Glass balconies below 18m
Balustrades
Internal screens
Compromise product for use above 18m, subject to approval by Building Control
NB: Please ask your Building Control expert to consider ESG BSafe as a compromise product for use in applications above 18m from ground level.
Read More >
ESG BSafe is a B rated product, so it is not currently an exempt product for use in construction in balconies over 18m from ground level. However, we believe that this should be an acceptable compromise, as, during testing in fire conditions, it behaves like an A rated product – as a finished product. We urge you to ask your Building Control Officer to accept this as a compromise product for use in balconies above 18m from ground level.
We are also actively campaigning to have ESG BSafe classified as an exempt product which can be used above 18m from ground level.
Developing a fire-resistant glass product for balconies – the challenge
Since the tragic Grenfell Tower fire of 2017 and the subsequent revision to the Building Regulations in 2018, there has been a ban on the use of toughened laminated glass panels in balconies above 18m from the ground. After Grenfell, it was widely acknowledged that greater care must be made to the specification of construction materials for residential properties with stories over 18m from the ground.
Of course, we understand and wholeheartedly agree with the need for care and safeguarding of occupants, particularly residents, of high-rise buildings.
But is banning the use of toughened laminated glass in balconies above 18m the right call? Do glass products help to spread fire? The evidence demonstrates that they do not.
It is still permissible to use glazing in windows and doors to provide natural light. These glass products have not been shown to increase the risk of the spread of fire, particularly in the cases of several subsequent high-profile fires. There is no historic record of glass posing a fire risk.
Indeed, more recent fires have shown that where there were existing glass product installations, these did not contribute to the spread of fire. It has been repeatedly observed that fire does not spread via glazing products to surrounding residences, and fire has remained contained to the immediate area, with neighbouring glazed balconies remaining undamaged.
The London Underground fire of 1987, centred on the King's Cross/St Pancras tube station, also brought about an extensive investigation into the types of construction materials that should be permitted, but, in this instance, toughened laminated glass was not banned, as it was recognised that it played no role in spreading fire.
Tackling the fire safety issue through product development
Since the 2018 Building Regulations changes and subsequent ban on the use of glazed balconies at height, we have invested significant resources in developing a product which would be acceptable for use above 18m.
In order to be classified as an exempt product for use in construction above, construction products must be tested and granted an A rating under the EN 13501 standard.  BSafe has been independently tested and has achieved an overall calculated rating of B. However, it should be noted that under direct exposure to fire, the finished product was compatible with an A rating, and it consistently behaves like an A rated product under simulated fire conditions. We believe that its overall test results should be sufficient to make ESG BSafe a suitable compromise product and, ultimately, an exempt product.
Testing under laboratory conditions
The overall test which assesses whether a product will burn, smoke or drip is known as EN 13501. This test comprises several elements. BSafe has been through the entire testing process at an independent test facility.
The first test, EN13823, tests the finished product in simulated live fire conditions. The ESG BSafe toughened laminate finished product was tested to EN13823, and was compatible with a rating of A2, s1, d0.
The finished ESG BSafe product was then further tested, with the interlayer fully encapsulated between two toughened glass ESG panes, as it would be in use as a construction element. This was the EN 11925-2 ignitability test, in which the product is exposed to a naked flame, and turned to contact with the flame on more than one plane. ESG BSafe passed the EN 11925-2 test with no observed damage to the product.
However, because it is constructed using an interlayer, which comprises more than 1% of the finished product, ESG BSafe also needed to be tested in accordance with EN ISO 1716. This test assesses the flammability of the component parts of the product – in this case, the interlayer. EN ISO 1716 comprises a calculation of the gross heat of combustion of the interlayer alone. In this we achieved a calculated result of B.
In summary, we were compatible with an A2 rating in the initial BS EN 13823 test; BSafe showed no fire propagation through the BS EN 11925 test; but, based on the calculation of the encapsulated interlayer, which we have already proven does not spread fire in situ, BSafe dropped to a B rating in the ISO 1716 test.
The B rated fire-resistant glass product that behaves like an A rated product
As a finished product, ESG BSafe already achieves the desired standard for construction materials. Unfortunately, because it is made using an interlayer, which provides greater strength and greatly reduces the likelihood of falling glass fragments, the overall calculated rating is B, even though, in actual fire/flame test conditions, the finished product was compatible with the required A2 rating.
As the interlayer will always be fully encapsulated in the finished product, we argue that ESG BSafe should be classified as an exempt product. Currently, we believe that the testing data should be sufficient for Building Control to designate it a suitable compromise product.
Bring glass back to balconies – lack of Government consultation
Since May 2020, when we completed a consultation submission to the former Ministry of Housing, Communities and Local Government, now The Department for Levelling Up, Housing and Communities, there has been no acknowledgement, consultation or update.
There has been no progress made in the use of glass, even though many other construction products have been granted exemptions.
This means that since the 2018 change to the Building Regulations, there has been no reassessment of glass products or consultation with the glass manufacturing industry, despite advances in glass technology and product composition.
There should, as a matter of urgency, be further Government consultation, and serious consideration of the effects of banning the use of glass products in balconies over 18m above ground level.
Firstly, there is the disparity between allowing the use of glass in windows and doors, but not allowing glass panes in balconies, where they could easily be installed in framework which would reinforce the full encapsulation of the interlayer.
Secondly, there is the lack of wind protection. The most common alternative to glass, metal railings, does not provide protection from wind or other adverse weather conditions. In some settings, this can render the invaluable outside space of a dwelling practically unusable. The recent lockdown demonstrated very clearly the essential benefit of access to outdoor space for everyone.
Thirdly, reliance on railings, rather than glazed panels, greatly increases the likelihood of dropping objects from the balconies, a further potential safety hazard.
Finally, the lack of panels frequently results in the use of other screening materials by residents, which cannot be effectively monitored. Without the acceptance of a suitable compromise product such as ESG BSafe, this trend will continue. Most DIY screening materials are flammable, and therefore reintroduce an added fire risk, one potentially than that of our B rated glass product which behaves as an A rated product in test conditions.
What you can do
Ask your Building Control officer to approve this product as a compromise product for use above 18m from ground level, on the basis of its performance in live fire testing to BS EN 13823 and BS EN 11925.
We are very happy to provide detailed testing information to assist with their decision.
Please contact our team at sales@esg.glass or call 01376 520 061 for further advice and guidance.
latest news
ESG pride ourselves on our innovative ideas, which help to keep us one step ahead of the rest of the market. This approach has lead us to a range of exciting new projects. Find out more by visiting our news page.
Read More>>
our projects
Our market-leading portfolio has seen our glass being used at many prestigious locations around the world. Our glass can be found in most of UK's busiest airports and train stations, as well as in Europe's tallest and most striking buildings.  Read More>>