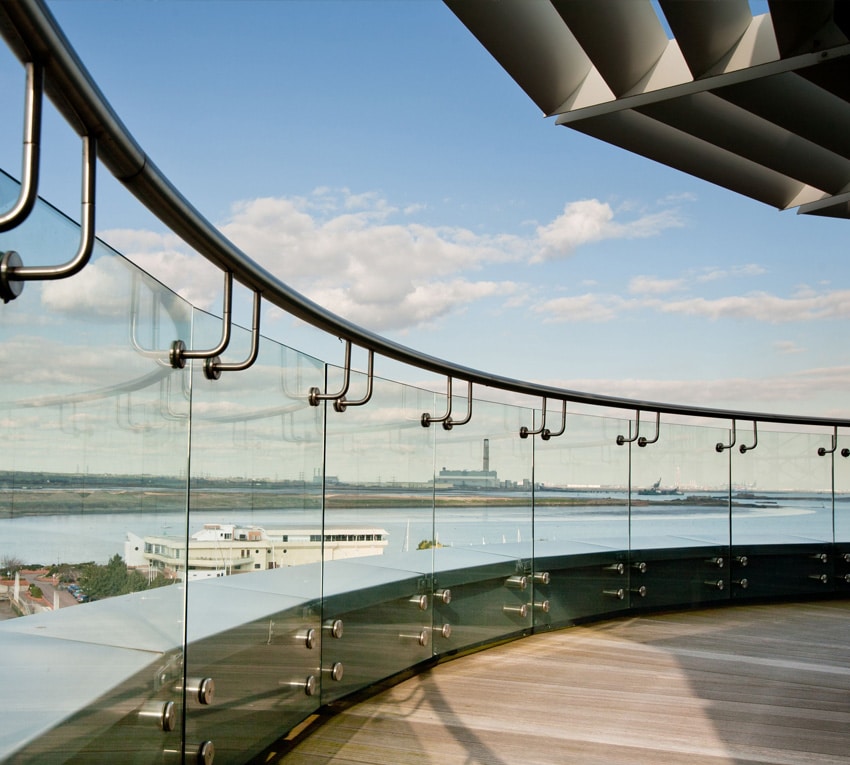 ESG –  the perfect solution for glass balustrades
glass balustrades – a guide from ESG
Do you want to add in a high-quality balustrade for your balcony or staircase? A balustrade that's easy to install? One made out of glass without getting rid of the safety features? At ESG we provide a variety of different glass types so you can find one suitable for your balustrade. Whether it be for your home or for a large shopping centre with stricter safety requirements, we have exactly what you'll need for your budget.
Glass Balustrades have become very popular over the last few years, combining an effective safety barrier whilst still being able to enjoy the views in the property or business premises. ESG processed glass is the perfect product for your glass balustrade due to its strength and aesthetic qualities, enhancing safety for users of the balustrade.
Adding a glass balustrade can look elegant and stylish when included in a building or home as well as being an efficient and useful feature. They help to keep the beauty of the outside views by providing a non-obstructive safety barrier that is durable and easy to maintain.
What is a glass balustrade?
A glass balustrade is a safety barrier which can be used on stairs or in high places to prevent people falling off them. They are completely see through so the view isn't obstructed and you can also use them in different shapes and sizes, giving architects a lot of flexibility in their design choices.
Why are glass balustrades so popular?
Glass Balustrades are ideal for allowing maximum sunlight to filter through the property, helping to give a light and airy feel that you wouldn't get from an opaque one.
Another benefit of a glass balustrade is the balustrade is usually made up of several glass panels so if one was to shatter or be damaged in anyway, it is not necessary to refit the entire balustrade which will save costs.
Which glass is best for balustrades?
Structural glass is much stronger than standard glass and is commonly used in glass balustrades. The difference is fairly self-explanatory as the glass panels are used to help keep the balcony together, as part of the overall structure. Sometimes normal glass is used but this is more of a decorative feature with another material used for the structure such as metal.
Toughened and laminated glass is commonly used for glass balustrades. Toughened glass is thick so makes the balustrade safer and is used when heat resistance is required, which can be needed when the glass balustrade is positioned in the sun for lengthy periods of time. This also means that if the glass was going to shatter it will do so into smaller, blunter pieces which adds to the safety element of the balustrade as it reduces the chances of cuts from glass fragments. It also makes glass an ideal choice for your balustrade, lasting for years to come.
What are the building regulations for glass balustrades?
Glass balustrades are essentially glass railings/balconies. Other than looking nice, they need to keep the surrounding people safe. Whether they are built indoors or outdoors, they also need to be able to withstand a great deal of wear and tear.
They are normally placed in the busiest areas of a building or home e.g., staircases and balconies. As a result of this, there are certain building regulations that need to be abided by when it comes to the design of the balustrades.
When building and designing glass balustrades, the line load is the first thing to keep in mind. The line load is the measure of the amount of force the top edge of the balustrade can handle. Think of it as a representation of someone leaning on the railing. The line load is measured in kN/m.
The required line load of a glass balustrade is determined by the building and can range from 0.36 kN/m to 3.0 kN/m in buildings with higher traffic.
Another design requirement to consider when creating glass balustrades is the concentrated load. This is a measure of the impact a balustrade can withstand, whether it be sudden or accidental. An example would be if an object or person was to hit the balustrade with force.
Features of glass balustrades to consider
At ESG there are a range of laminated glass panels to choose from in terms of size and thickness. These products range rom 6.8mm laminate (3mm float glass laminated with a 0.8mm PVB interlayer) to 16.8mm laminate (2 panels of 8mm float glass with a PVB interlayer).
You will also need to think about the frames or posts. Do you want the glass to be framed, semi-framed or frameless. Please note that structural systems that use toughened or laminated glass typically don't use posts.
Another thing to consider with a glass balcony is the drainage. Laminated glass that uses PBV shouldn't be left to sit in water as it can cause it to delaminate if it is left for too long. Therefore, the water should drain out of the bottom rail to prevent this from happening, using drainage holes can help with this.
What is the best thickness for glass balustrades?
The type and the thickness of the glass panels will vary for each system. Generally, the most common type of glass used for framed glass balustrading systems is 10mm toughened, while the most common thickness for frameless glass balustrades is 17.5mm toughened (toughened laminated glass for domestic purposes).
How tall are glass balustrades?
Next to the type of glass, the height is also an important factor for the glass balustrades in terms of safety.  The recommended height of a glass balustrade can vary between 900mm to 1200mm from the bottom surface.
It is also important to note that if you want a glass balustrade with a height of over 1000mm, you will need to order glass panels that are slightly shorter than 1000mm as the balustrade base will also take up space.
The width of the glass panels is more of a personal choice. However, they are most commonly between 1000mm and 12000mm in width but this will vary from use to use.
Do glass balustrades get hot?
One concern many architects considering glass for their balustrades may have is whether they get hot in warmer weather. Fortunately, laminated glass is resistant to any moisture and is not harmed in hot or cold weather. Other materials such as wood are not as versatile and they normally need some type of coating to last in different temperatures and moisture levels. Glass also requires minimal effort to maintain and keep clean, with a wipe down cloth often being all that is required to clean most dust or light stains.
How safe are glass balustrades?
A worry that is common when it comes to glass balustrades is whether they are safe or not. As well as being visually pleasing, glass balustrades are indeed very safe.
The glass used for these applications is very thick and tempered therefore making the glass hard to break. If someone leans or happens to bump into the glass, it will not break, it will absorb the force and prevent damage and injury.
If the glass was to break on a rare occasion, it would break into smaller pieces rather than larger, sharp shards which could result in serious injury.
Our products are all tested and safe to ensure that they are of high quality and suitable for our customers based on each intended use. We can ensure that our toughened glass is extremely safe, giving you piece of mind when you make your purchase with us. If you do have any questions in regards to the safety of our products, feel free to get in touch with us today.
Why choose ESG?
ESG is the UK's leading glass processor, providing superior quality, exceptional service and product innovation. Operating from our 120,000sq ft base in Essex we are ideally placed to service the whole of the United Kingdom with our extensive range of products.
Founded in 2003 and managed by the original core team who share a collective knowledge and combined industry experience of more than 100 years, we have established ourselves a reputation for being the go to glass supplier in the UK.
We are a ISO9001 2015 2021 certified company and all our glass balustrades are BSI approved. We are always happy to discuss a particular project with you, so please contact one of our customers service team for more information on 01376 520 061 or email us on sales@esg.glass.
ESG
ESG manufacture the largest and most technologically advanced range of processed glass for residential and commercial clients throughout the UK.
need to know more?
Speak to us on 01376 520 061 or contact us and one of our friendly team will be able to assist you.