Globe Wharf was originally built in 1863 as a granary that could store up to 12000 tonnes of grain. In 1924, Thames Rice Milling converted this and several other buildings in the Rotherhithe area in rice mills. The addition of a riverside crane in the 1930's ensured that the building remained in constant use during the next few decades due to the ease with which boats could be loaded and unloaded. As trade along the Thames gradually fell through the 70's, the ownership of the building changed many times as did its usage, a trend that continued until the 90's when Globe Wharf was bought by Berkeley Homes.
The 90's saw Canary Wharf and Docklands emerge as a new financial hub within the city, in turn seeing the surrounding areas become popular with affluent workers looking for somewhere to live. This led to massive investment and redevelopment of the surrounding areas, including Rotherhithe. In 1998 Berkeley released the first of 138 loft style apartments in the newly developed Globe Wharf. The redevelopment of the building retained all of the original walls and wooden beam work, with the addition of modern features such as a pool, gym and 24hr concierge service.
Our clients purchased their riverside penthouse over two years ago and have spent that time carrying out a massive internal refit. One of the problems in most of the apartments was the lack of natural light. Most of the windows in each apartment faced into the internal court yard, so sun light is limited. Fortunately with our client's flat being on the top floor they have been able to install rooflights ( albeit after a LOT of planning applications).
This allowed natural light to flow into most rooms in the apartment creating a more natural environment.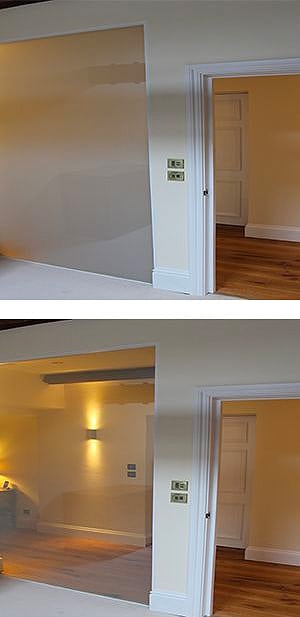 The only place that more light was required was the main reception hall area. The solution was to create a glass partition between the hall and one of the rooms with a sky light to allow light to pass into the hall. The only drawback to this would be the fact the bedroom would not offer any levels of privacy to the occupant. The final solution was to install ESG Switchable™ glass in the partition so that the panel could be switched to opaque when the bedroom was being stayed in and the occupant wanted privacy. The installation has been such a success that the owners are now looking to install switchable glass into their new bathroom refit.