New anti-microbial glass is launched – Proven antiviral activity against SARS-CoV-2
ESG Group Ltd have now launched the latest in anti-microbial glass designed to prevent the build-up and transfer of bacteria, viruses, moulds, fungi and most importantly – Envelope viruses which include Coronaviruses. With the on-going concerns about the COVID-19 pandemic and the need to prevent spread of the virus, Liquid Guard® provides an invisible barrier that continues to kill bacteria 24 hours a day for up to 12 months. Liquid Guard is proven to have antiviral activity against SARS-CoV-2.
Traditional cleaning products can offer similar 'full kill' rate; HOWEVER, they are only effective when they are applied. They do not prevent the build-up harmful bacteria once they have been used, meaning once they have been wiped across a surface and killed any type of microbe on the surface, microbe build up starts straight away. Liquid Guard® is a coating that once applied and cured kills bacteria, viruses and other harmful pathogens on contact with the glass. As well as giving the glass anti-microbial properties, the Liquid Guard® coating also gives the glass much higher anti scratch protection as well as reducing the build-up of dirt and limescale on the glass, making cleaning a much easier job.
Tested to ISO 21702 antiviral properties of non-porous surfaces and ISO 4649 abrasion resistance, Liquid Guard® coating has been certified not only on its effectiveness on glass products but has also been shown to have a life span resistance of over 40000 surface wipes, giving an expected lifespan of 12 months on architectural glass. Liquid Guard® treated glass from ESG can be supplied as a pre-coated product directly from the factory, so it is fighting harmful pathogens from the minute it arrives on site. Alternatively, ESG can offer a full onsite application service for any pre-existing installation. Due to the chemical makeup of Liquid Guard® it is possible to apply within occupied offices as there are no potentially harmful vapours given off by the product.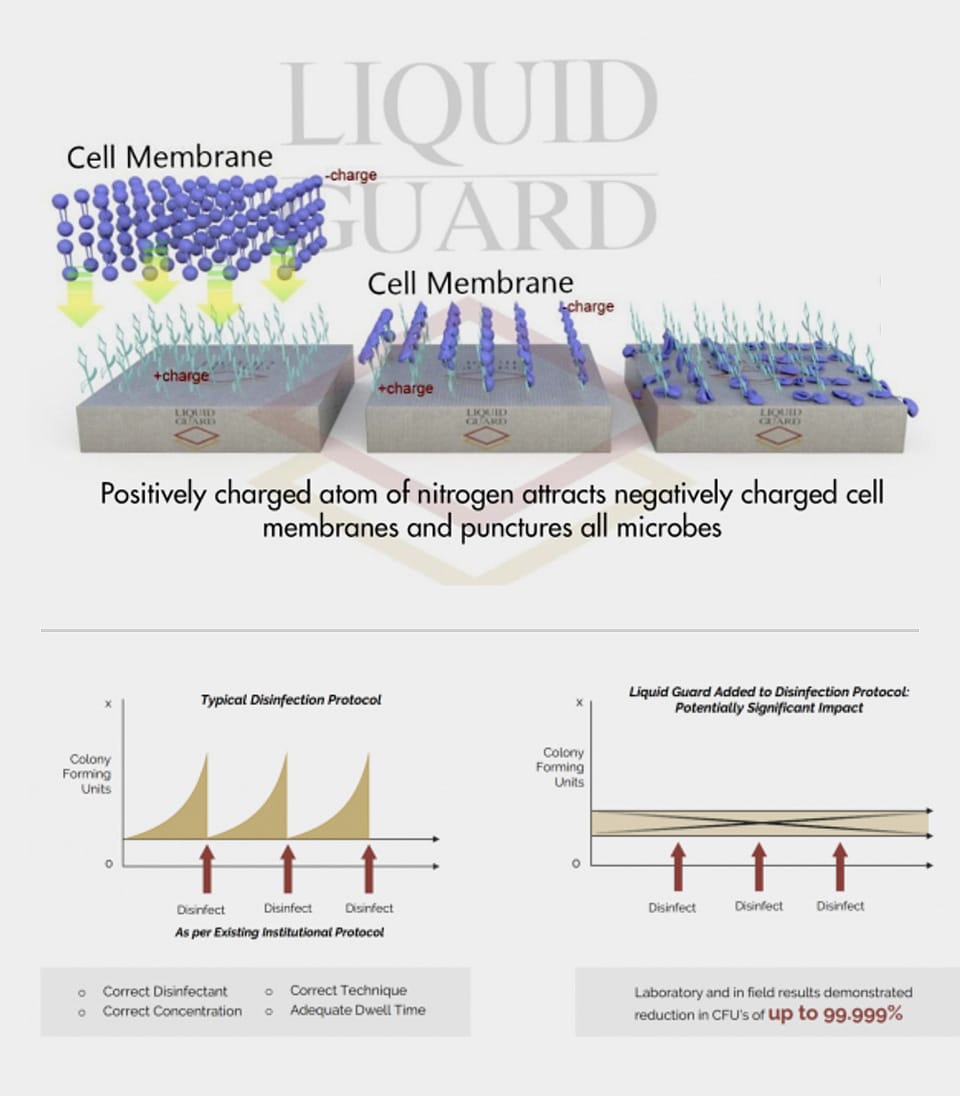 The full 'kill' list of Liquid Guard® can be found here, but here is a selection of the bacteria and viruses that Liquid Guard® is known to be effective against:
TGEV Coronavirus (99.8% kill on this enveloped virus – a category which includes coronaviruses)
Influenza A
Staphylococcus aureus (MRSA = methicillin-resilient Staphylococcus aureus)
Escherichia coli (intestinal bacteria)
Klebsiella pneumoniae (odour-creating bacteria)
Listeria monocytogenes (foodstuff)
Salmonella choleraesuis (foodstuff)
Aspergillus niger (slightly sporicidal)
Pseudomonas aeruginosa
Enterococcus hirae
Proven antiviral activity against SARS-CoV-2 by independant third party testing center.
Liquid Guard® is currently being used in hospitals in Europe as well as government buildings, schools, offices and the hospitality sector including Premier League stadiums.
Liquid Guard® offers round the clock protection preventing the build-up of bacteria and viruses on treated surfaces, limiting the possibilities of hand – surface – hand transfer and infection. As well as the obvious benefits in reducing the Coronavirus pandemic. Liquid Guard® is effective against other viruses such as influenza which every winter account for a large proportion of staff absentees.
ESG anti-microbial glass is one of the first steps in helping to create a safe working environment, giving confidence to both employees and customers alike. Working invisibly, 24 hours a day, to kill up to 99.8% of all bacteria viruses including coronaviruses – get in touch today and find out how your next order can include Liquid Guard® coated ESG glass. ESG can also safely coat glass that has already been installed. Our coating team can come to site and coat your glass even if the building is currently occupied. To find out how more details about our onsite installion please get in touch.