architectural balustrades
ESG TuffLam can be used in two and four edge supported infill panel barriers and provides the highest level of safety for structural balustrades (free standing barriers) where the glass is clamped only by its bottom edge.
Toughened glass is four to five times stronger than annealed glass of the same thickness and is ideally suited to most safety critical applications.
However, its use at high level must be subject to careful consideration because if it is broken the glass will shatter into small pieces and will no longer support a load or act as a barrier.
Consequently, toughened glass that is not fully framed is likely to fall from its fixings.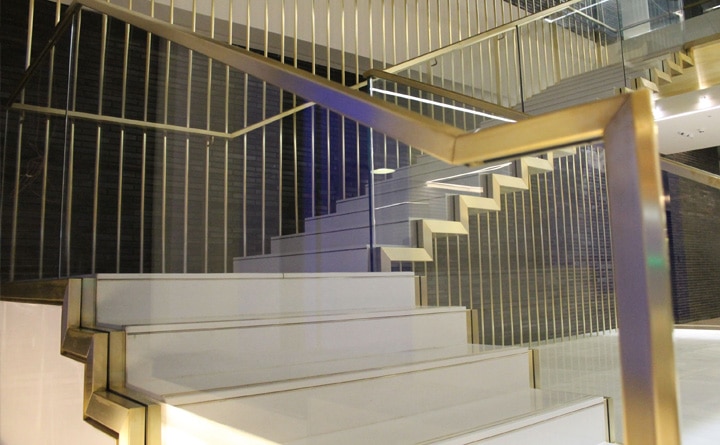 get in touch
Our unrivalled commitment to delivering the highest quality products at market leading prices has seen the ESG name firmly establish its self as one of the UK's leading names in glass solutions.
Contact an Expert>>
our products
Our aim is to be exceptional in all we do. We strive to make exceptional products, offer exceptional service and nurture exceptional partnerships with our customers
View Glass Range>>

what is an architectural balustrade?
Although it's common knowledge to be aware of exactly what a balustrade is, you probably come across them more than you'd believe. Situated along staircases or terraces … a balustrade is simply a row of small columns that is topped by a rail. The name 'balustrade' is taken from the product's constituent posts (known as balusters – a name from 17th century Italy based on the products's likeness to blossoming pomegranate flowers … called Balaustra in Italian).
A balustrade is multi-functional as it reduces the likelihood of falling from height and is also a great way to enhance the privacy and aesthetic nature of an area. The earliest examples of this product date back to sculptural murals (or ancient bas-reliefs) that were prominent as early as the 7th century B.C. In historical Assyrian palaces, balustrades are depicted lining the architecture. Unusually, examples of balustrades do not appear during the architecturally impressive Greek or Roman years … they do resurface later in the 15th century however, when they featured in Italian palaces.
At ESG Glass, we manufacture stunning bespoke architectural balustrades and glass balconies. Based in Essex in the United Kingdom, we supply our innovative products to leading Architects and Developers for a wide range of industries. ESG's highly skilled and experienced technical team are always on hand to advise you and help you through every step of the process. We deliver our architectural balustrades with rapid turnaround with no compromise on quality and our products are proudly displayed in many of Europe's most striking and innovative buildings.
To find out more about the use of ESG's products – visit our projects page for some examples.
For all the most recent developments – visit our news page.
To view our Youtube channel and see our products in action – click here.